Aleph Bet Torah
Share:
Canvas
15 x 13 inches
Image
12 x 10 inches
Margin
1.5 inches
Made In
U.S.A.
Colors
13
Mesh
13 Count
Material
Zwiegart Mono Deluxe
100% Cotton
---
Product Description
Hebrew letters dance merrily around a velvet-clothed Torah scroll. There are 22 letters in the Aleph Bais. This is first thing three year old boys learn after their upsherin. The beloved holy Torah is the center of Judaism. Hebrew (and Yiddish) uses a different alphabet than English. Note that Hebrew is written from right to left, rather than left to right as in English, so Alef is the first letter of the Hebrew alphabet and Tav is the last. The Hebrew alphabet is often called the "alef-bet," because of its first two letters. Note that there are two versions of some letters. Kaf, Mem, Nun, Peh and Tzadeh all are written differently when they appear at the end of a word than when they appear in the beginning or middle of the word. The version used at the end of a word is referred to as Final Kaf, Final Mem, etc.
About Our Painted Needlepoint Canvas
Pepita Needlepoint canvases are printed on high-quality Zweigart Mono Deluxe White canvas. The 100% cotton weave is easy on the eyes and gentle on the hands for your stitching enjoyment. Bright, vivid and fade-resistant ink allow you to easily match thread to the image on the canvas. Our proprietary printing process was developed by specialists in the fabric printing industry and we guarantee you will not find a better quality painted canvas. Pepita's line of needlepoint canvases and needlepoint kits are simply the best available on the market today. Learn more.
If you would like to purchase thread together with this canvas, please select the corresponding option above (before the Add to Cart button). The needlepoint kit includes all the thread you need to complete the project, plus two tapestry needles. You will receive full skeins of DMC Pearl Cotton thread, in all the colors you need. DMC Pearl Cotton is thick, luxurious thread that is used right out of the package, no stranding or other preparation necessary.
---
Related Categories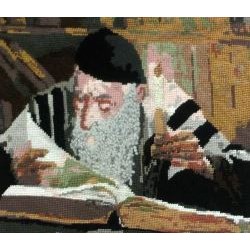 Torah
25 products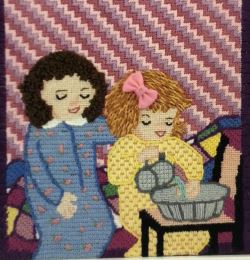 Children
50 products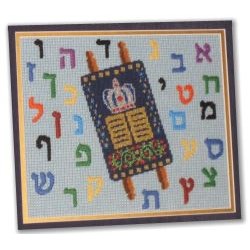 Aleph Bais
60 products
Similar Products